WELCOME TO THE BEACH HOUSE GOA
Welcome to a journey that will Transform Your Life. Our approach is holistic as we integrate therapies from Modern & Ancient sciences to help you heal & rebalance your body and mind. We give you the time to pause, to reset & to breathe deep. Here's to feeling lighter, brighter and energized.
Rebalance Your Body. See
yourlife transform.
Lifestyle & Health
Problems
Holistic Simple & Effective. We provide
natural solutions.
We help you reconnect
with yourself!
Practical Yoga that will
transform your life.
Authentic Practical Ayurveda
that will transform your life.
Relaxation & De-stress Retreats
Switch Off in a relaxing
sanctuary on a holiday like no other.
Online Holistic Wellness Consultations
Offering online holistic interventions for all health and wellness related concerns of body and mind.
HIGHLIGHTS OF OUR RETREATS

Rebalancing 3 Chakras
We believe that best results are achieved by balancing the Physical, psychological and physiological elements, together known as the 3 Chakras for optimum wellness.

Total 360 Care
We combine New Age Modern and Ancient techniques for screening and diagnosing potential causes of various imbalances to help restore your balance.
Practical Yoga
As part of revitalizing process, yoga, pranayama and meditation are integral parts of healing you, and giving you the perfect start to the day!

Pragmatic Holistic Approach
We believe in making Ayurveda and natural alternate sciences practical in the new age.

Cleansing and Detoxification
Through detoxification, you'll start the rejuvenation process at the cellular level helping your body regain optimum health and wellness.

Personalised approach
Our programs are made for "Your Wellness" and are tailored to suit your unique needs after the initial assessments and meetings with our doctor.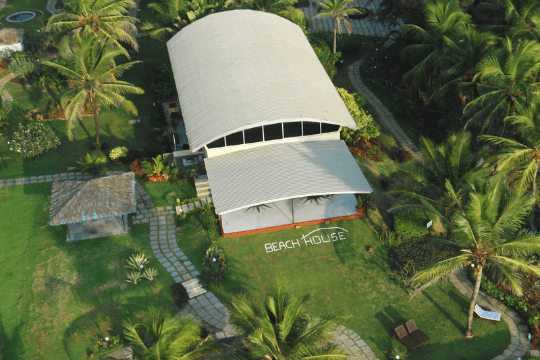 About The Beach House Goa
The founder's vision for the Beach House Goa's Wellness Philosophy is based on achieving and creating a balance between all three body systems i.e. the Three Chakras of your body in order to attain a state of "Wellness".
The Physiological system that fuels body processes.
The Physical system supports the organs and body.
The Psychological system that governs thoughts, desires, actions and emotions.
All Three Chakras are interconnected and complement one another. They determine that an individual's state of health is fundamental to attain equilibrium, prevention of disease and promotion of health.
SOME MORE FEEDBACK FROM OUR GUESTS